Convention Venue
U-Con Gaming Convention
November 17-19, 2017
Marriott Ann Arbor Ypsilanti at Eagle Crest
1275 South Huron Street, Ypsilanti Township, MI
(734) 487-0600
We are pleased to return to Eagle Crest for our 2017 convention. We have expanded our space within Eagle Crest to fit more events than ever.
Hotel Reservations – Space is Limited!
We have a block of rooms at the adjoining Marriott for $99 per night. You can reserve by calling 1.877.757.7133 or 1.800.228.9290 or reserve online using code UCOUCOA until space runs out! If there appears to be no space online, please try calling – they may simply need to extend the room block to add you. You must identify yourself as a member of the group to receive our room rate.
Reservation deadline is October 16, 2017.
Map to Eagle Crest

View U-Con @ Eagle Crest in a larger map
2017 Site Map
TBA
2015 Site Map (For reference, things will likey change!)
The registration desk is adjacent to the stairs to the 2nd floor, and the elevator is just behind the stairs. Board games and miniatures will primarily be downstairs in the Ballroom and adjoining space. Roleplaying Games will primarily be upstairs in the Conference area. We have added Auditorium 1 for the Auction and Smithee Awards as well as Elizabeth Ann Ballroom, which will host Pathfinder Society. Exhibitors will be in Auditorium 2 near registration on the first floor. The Ballroom and some Conference rooms will remain open for late night open gaming!
First Floor Areas: Registration Desk, Food Service, Ballroom, Exhibitors' Hall (Auditorium 2), Atrium (Fri/Sat only), Auditorium 1 (Fri/Sat only)
Second Floor Areas: Conference A-H, Seminar 1-5, Board Room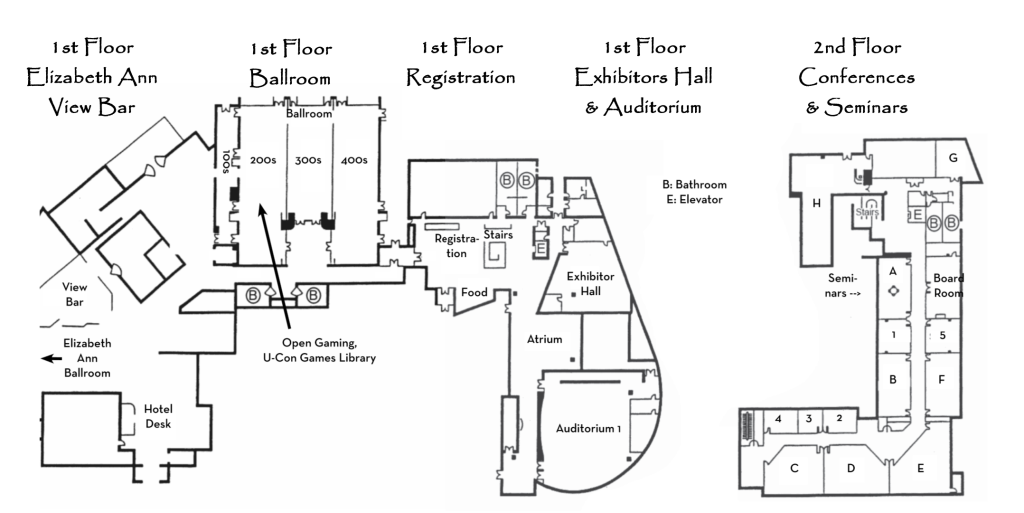 First Floor:
Registration Desk
Food Service
Ballroom: Board Games, Miniatures, and Amorphous Blob Games (details below)
Exhibitor's Hall: Also known as Auditorium 2
Atrium: Open gaming, and lunch & dinner seating
Auditorium 1: Auction, Smithees
Elizabeth Ann Room: Pathfinder Society
Second Floor:
Conference A: Games on Demand
Conference B: We Hate Bards
Conference C: LARPs and Seminars
Conference D: Adventurer's League
Conference E: Independent roleplaying events
Conference F: Living Arcanis & Witch Hunter
Conference G: OSR Track
Conference H: HERO games room
Board Room: Guest of Honor Events
Seminar 1-4: Seminars and roleplaying events
Seminar 5: Tekumel Track roleplaying events
Our board and miniatures gaming space is just down the hall from the registration desk in the ballroom. Now that the whole ballroom is dedicated to gaming, we've laid it out a little differently this year. We're using the hallway space on the left side of the map for additional gaming space. The Library area is in the back left corner of the main room, and the area will close at night. Miniatures will take up a large portion of the room on the right side. There are scheduled events on all of these tables, so please look for the table schedules on each table before choosing to hang out at a table.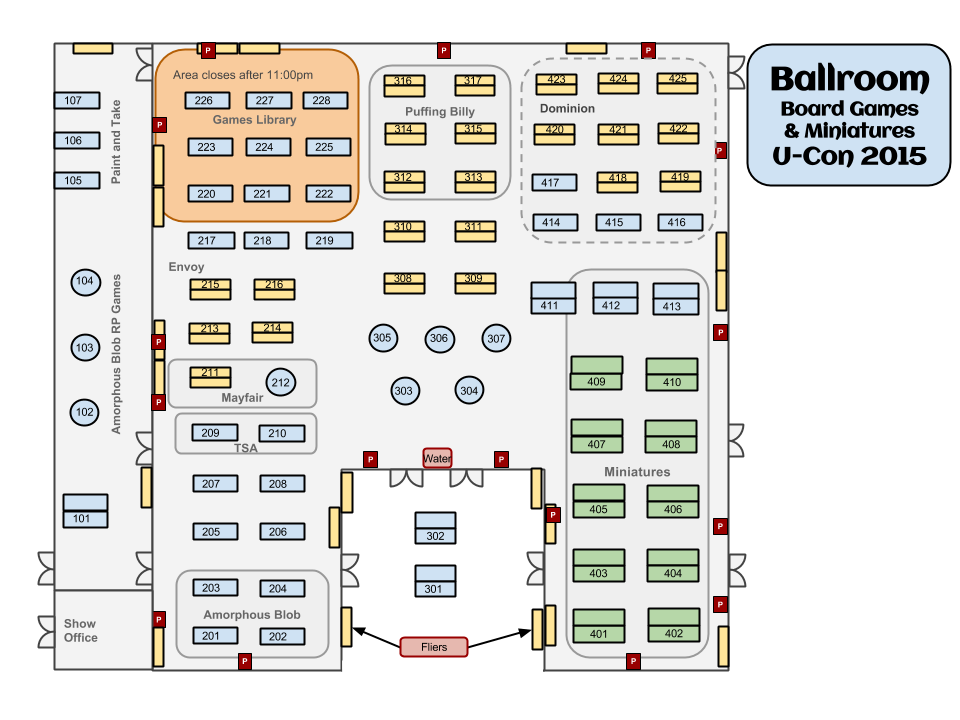 There is plenty of space to fill up your weekend with tons of games. Please come and join in the fun!