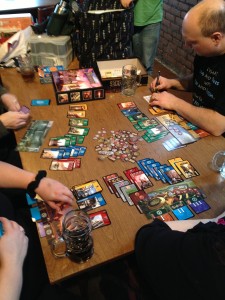 The May edition of Games Library Day is going to be slightly off schedule on account of the Second Sunday being Mother's Day. We'll meet one day earlier on Saturday, May 11th and a touch earlier in the day (12pm – 4pm) to beat the Saturday evening crowds. This way you will have all of Sunday to take your mother out for brunch (or to be taken out for brunch if you are a mother) AND get some gaming in that same weekend.
Oh, if your mother likes to play games, bring her to Games Library Day too. We'll try to have her favorite game on hand if you leave a comment as to what that might be.
Come join us for lots of pre-Mother's Day games fun on
Saturday, May 11th
12:00 pm – 4:00 pm
@ The Corner Brewery in Ypsilanti (map)
A subset of the Games Library will be in attendance and of course people are welcome to bring their own games. If you'd like to see a particular game at Games Library Day, leave a comment to let us know. Hope to see you there!