U-Con is a community-driven convention.  We host a wide variety of events, most of which are led by individuals from the gaming community.  Anyone who wants to run a game can submit an event through our website.  Then the convention organizers arrange the events into a schedule, which will be posted in August or September.  You are our primary source of games and entertainment, so please consider becoming a gamemaster in order to bring your favorite games to U-Con.
Con Book
The conbook is your guide to all events going on at the con.  We will post the new book when ready.  Meanwhile, you can peruse old con books here.
Events
You can browse our event selection on the web:
You can search by keyword, including using a GMs last name or group name to get her schedule:
Open Gaming
U-Con Games Library  We are pleased to once again be working with U-Con to present our Open Gaming Library! Our library includes many games from a wide variety of publishers, including ElfinWerks, Zvezda, Sirius Games, and many others!  See Games Library Inventory for the list. Borrowing games from the library is included with your convention badge!
Gaming Categories
The Board and Card Games Track features all sort of table top games.
The Miniatures Track features wargaming, both historical and non-historical including Warhammer.
The Living Campaign Track hosts organized play events for Pathfinder Society and RGPA.  New players are welcome and encouraged.
The Roleplaying Track features all roleplaying events submitted by independent gamemasters.  These events have a great variety in game systems and styles.
The Special Events Track hosts non-game events.  We have seminars and the Smithee Awards Primary.
Specialty Tracks and Groups
Mayfair Open Gaming.  Stop by at play one of the many games in our Mayfair library! Whether it's a game of Settlers of Catan, a fast 30-minute game, one of our deeper offerings, or ever one of our kids' game, we'll have something for everyone!  Also check out our scheduled events for which you can reserve tickets.
The Tekumel Track offers games and other events for fans of MAR Barker's World of Tekumel.  Fans of Tekumel from all over the world attend, making this the best place to meet other fans of this amazing and detailed setting.
The Puffing Billy® Tournament offer numerous train-related games like Ticket to Ride.  Games may be played individually or as part of a point based tournament.  More…
Games on Demand offers numerous indie games first-come, first-served.  More…
Amorphous Blob Games has been bringing new and interesting board/card games and role-playing events to the convention scene for over 15 years.  We warmly welcome our friends!  Stop by one of our events and see our experience in action!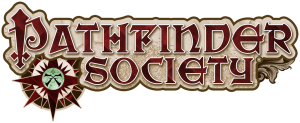 Pathfinder Society Organized Play (PFS) is a worldwide fantasy roleplaying campaign that puts YOU in the role of an agent of the Pathfinder Society, a legendary league of explorers, archaeologists, and adventurers dedicated to discovering and chronicling the greatest mysteries and wonders of an ancient world beset by magic and evil. The campaign rules are designed to bring players together in a standardized and balanced system. Your character is "portable". After you play at U-Con you can go anywhere in the world and play a new adventure with totally new people under the same rules!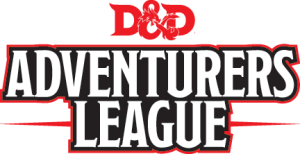 D&D Adventurers League is an ongoing official organized play campaign for Dungeons & Dragons. It uses the fifth edition of the Dungeons & Dragons rules, and features the Forgotten Realms setting. You can play D&D Adventurers League games at any place that features adventures bearing the D&D Adventurers League logo. You can create a character and bring that character to games anywhere D&D Adventurers League is supported.
---
2017 Guest Kickstarters Active During the Con
TBA
2016 Guest Kickstarters Active During the Con
Swords and Wizardry: Stacy Dellorfano
Swords & Wizardry is the ENNIE award-winning retro-clone of the original 1974-1978 edition of the world's most famous fantasy roleplaying game. We can't name it specifically, under the rules of the license we used to reproduce the rules, but you know the game we're talking about.We're starting to run low on our stock of the 2nd printing, and it's time to print some more.

We didn't just want to do an exact reprint, and the history of the changes here date back a while ago to when we were talking with designer Stacy Dellorfano about the fact that many OSR games have a physical appearance and presentation that really targets the 40 year old guys who've been gaming since forever, and doesn't have nearly as much appeal to younger or female gamers of the generations following that first wave of players from the 1980s. In point of fact, old-school games, with their light-rules aspect and emphasis on a game master's "common sense" interpretation of situations, are actually a really good tool for anyone who feels like rules-lawyers may be spoiling the game by trying to be over-authoritative or even overbearing with a GM. But if the appearance and presentation make the game look like it's purely a throwback and not a modern tool for good gaming, then there's a real obstacle to the game's push into the mainstream gaming community.

As a result of this analysis, we engaged Stacy as a designer to produce an edition that's no less appealing to older male gamers, while being MORE appealing to younger and to female gamers. Stacy put together a team, all women, to address this dual objective. We think her team has done an awesome job, and when you see the design results, we think you'll agree.
Golden Age Champions: Darren Watts
Smash the Axis! The Golden Age, beginning in 1938, created and defined the very idea of superheroics. Now Champions, Mutants and Masterminds, and Savage Worlds have their definitive guide to this amazing era! Written by longtime Hero writer Darren Watts, this massive book will provide full coverage of the Golden Age subgenre, before, during and after World War II, including:

A detailed examination of the earliest days of superheroic storytelling, describing the history of the actual comics and providing guidelines for simulating all of the elements and aspects of the Golden Age.
A complete description and history of the period between 1938 and 1950, both in the real world and the Champions Universe, focusing of course on the global conflict that involved over 100 million people and defined the "Greatest Generation."

 

Extensive information and assistance in creating your own superheroes and villains, including Package Deals, expanded rules for Skills, Perks, Talents and Powers, and over 60 characters (both heroes and villains) from around the world of the Champions Universe setting. PDF support material includes character sheets for all of the new characters translated into the Savage Worlds and Mutants & Masterminds rules sets.
A detailed timeline of the entire period, including important events in the fields of war, politics, science, and popular culture, as well as the strange and weird details that provide both color and plot ideas for your own campaign.
A step-by-step discussion of the entire period, including dozens of plot seeds, broken down into shorter periods with examples of the types of adventures appropriate for the era. Plus, extensive advice and discussion from Darren's personal experiences on how to run extended historical campaigns, including troupe play of multiple characters, sticking to a real-world calendar, and how to keep your campaigned World War Two-shaped!
At the higher support levels, we are also making available a new edition of the Golden Age Superheroes Encyclopedia by the legendary Jess Nevins, providing hundreds of characters (mostly public domain!) to use as inspiration for your own campaigns. Other add-ons include Secret Files from the cutting room floor, Hero Designer and Hero Labs character packs, and the first edition Golden Age Champions pdf from 1994!

Backers of Golden Age Champions attending U-Con are invited to a special dinner with Darren himself Friday night at 6 pm in the Terrace Room! He'll also be running two demo sessions of the game Friday and Saturday at 8 pm, doing a couple of seminars, and generally be hanging around to chat old-timey superheroes and comics throughout the show.