Program
U-Con is a community-driven convention.  We host a wide variety of events, most of which are led by individuals from the community.  Anyone who wants to run a game may submit an event through our website.  Then the convention organizers arrange the events into a schedule, which will be posted in September.  You are our primary source of games and entertainment, so please consider becoming a gamemaster in order to bring your favorite games to U-Con.
Scheduled Events
Board and Card Games – features all sort of table top games.
Miniatures – war gaming, both historical and non-historical including Warhammer.
Roleplaying – features all roleplaying events submitted by independent gamemasters. These events have a great variety in game systems and styles.
Organized Play – a subset of roleplaying events hosted by a sponsored organization, and often running published modules and living campaigns. New players are welcome and encouraged to join.
Special Events – gaming-adjacent events, including the Auction, seminars from our guests, meet-and-greets, and the Cine Mal Practice awards show.
Guest Events
The gaming industry is home to many creators and writers, and we'd like to give you a chance to meet them.
Become a Gamemaster
Want to add to the fun? U-Con is always looking for quality games and events to add to our schedule.
Open Gaming & Games Library
Have an opening in your schedule? Visit our Open Gaming area in the back of the Main Ballroom. Bring your own game or borrow one from our amazing Game Library. Our library includes many games from a wide variety of publishers, including ElfinWerks, Zvezda, Sirius Games, and many others! See the Games Library Inventory for the complete list. Borrowing games from the library is included with your convention badge!
Specialty Tracks and Groups
Tekumel Track offers games and other events for fans of MAR Barker's World of Tekumel.  Fans of Tekumel from all over the world attend, making this the best place to meet other fans of this amazing and detailed setting.
Puffing Billy® Tournament offer numerous train-related games like Ticket to Ride.  Games may be played individually or as part of a point based tournament.  More…
Games on Demand offers numerous indie games first-come, first-served.  More…
Amorphous Blob Games has been bringing new and interesting board/card games and role-playing events to the convention scene for over 15 years. We warmly welcome our friends! Stop by one of our events and see our experience in action!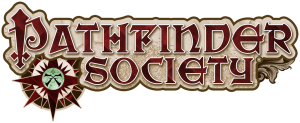 Pathfinder Society (PFS) Organized Play is a worldwide fantasy roleplaying campaign that puts YOU in the role of an agent of the Pathfinder Society, a legendary league of explorers, archaeologists, and adventurers dedicated to discovering and chronicling the greatest mysteries and wonders of an ancient world beset by magic and evil. The campaign rules are designed to bring players together in a standardized and balanced system. Your character is "portable". After you play at U-Con you can go anywhere in the world and play a new adventure with totally new people under the same rules!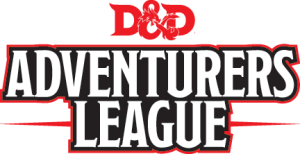 D&D Adventurers League is an ongoing official organized play campaign for Dungeons & Dragons. It uses the fifth edition of the Dungeons & Dragons rules, and features the Forgotten Realms setting. You can play D&D Adventurers League games at any place that features adventures bearing the D&D Adventurers League logo. You can create a character and bring that character to games anywhere D&D Adventurers League is supported.
Con Book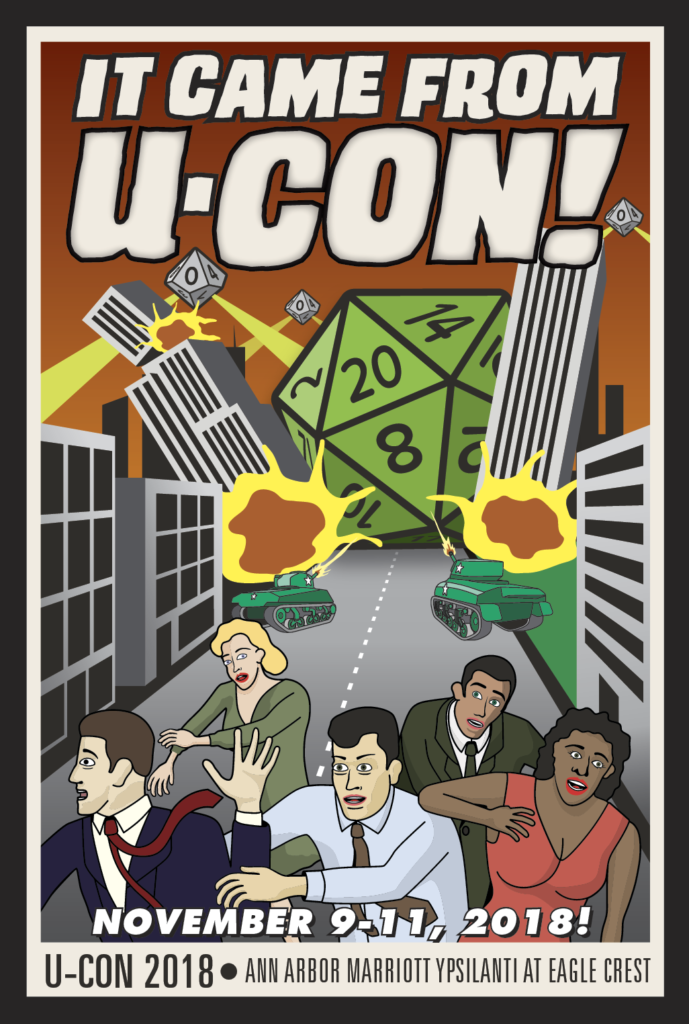 The Con Book is your guide to all events going on at the con. Historic Con Books are available below.
Prizes & Donations
Many independent events at U-Con are eligible for prizes graciously donated by vendors and the community. Gamemasters, please see your instruction packet for information on our prize token system.
U-Con accepts game donations for our Games Library and for Prize Support.  All donation are acknowledged on our website. Please contact us if you wish to donate.