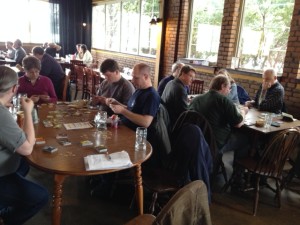 U-Con Games Library Day is a fun afternoon of gathering to play games. It's free of charge, open to everyone and usually takes place from Noon to 4 PM on the second Sunday of the month at Arbor Brewing Company (ABC) Microbrewery (formerly called The Corner Brewery) in Ypsilanti (map). A small selection of games from the U-con Games Library is usually in attendance for people to use and anyone is welcome to bring their own games to play.
2017 Games Library Day Schedule
Start time 12:00; End time (official) 4:00. Later if there isn't anything else using that space.
January 8th
February 12th
March 12th
April 9th
May 7th (First Sunday!)
June 11th
July 9th
August 13th
September 3rd (First Sunday)
October 8th
November 12th
December 10th