Venue
Marriott Ann Arbor Ypsilanti at Eagle Crest
1275 South Huron Street, Ypsilanti Township, MI
(734) 487-0600
Hotel Reservations – 2019
We have a block of rooms at the adjoining Marriott for $107 per night. You can reserve by calling 1.877.757.7133 or 1.800.228.9290 or reserve online using code UCON until space runs out! You must identify yourself as a member of the group to receive our room rate.
Directions

View U-Con @ Eagle Crest in a larger map
Site Layout
The Convention Center Atrium, on the first floor of the Eagle Crest convention center, hosts the Registration Desk, the Vendor Hall, and, during limited hours, our on-site Food Service. Also note that our gender-neutral restrooms are located near the registration desk.
Auditorium 1 hosts our large events, and is located at the end of the Atrium
Main Ballroom hosts mainly board games and miniatures events, along with the Games Library. It is located down the hallway to your left when facing the registration desk.
Conference and Seminar Rooms host primarily role-playing events. They are found on the second floor of the Eagle Crest convention center, with access from the elevator or stairs next to registration.
View Bar and Hotel Restaurant host unique events. The view bar is in the hotel lobby and the hotel restaurant is downstairs from the hotel lobby.
Elizabeth Ann Ballroom hosts additional role-playing events. It is located inside the hotel near the elevators and around the corner from the hotel registration desk.
Clubhouse hosts additional role-playing and unique events. The clubhouse is located a short walk outside from the hotel entrance.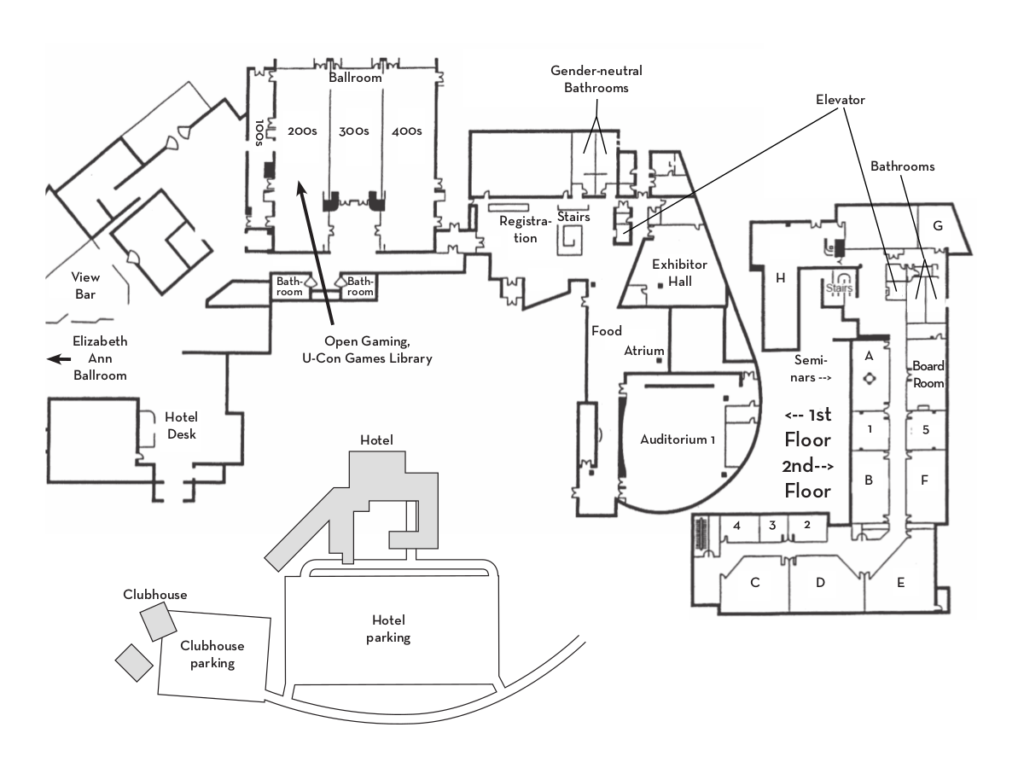 There is plenty of space to fill up your weekend with tons of games. Please come and join in the fun!