Hi U-Con attendees!
Due to a typo, the website originally listed online registration as closing on Friday, however it should actually have read Thursday. Sorry for any inconvenience.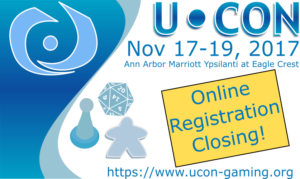 Additional dates you will want to keep in mind: This Friday we will stop accepting ticket exchanges until registration opens on Nov 17th at 8am. Full order cancellations will be accepted until next Wednesday the 15th, although refunds may not be sent until after the con.
Preregistration materials may be picked up on Thursday Nov 16, 8-9pm, or anytime during regular convention registration hours.