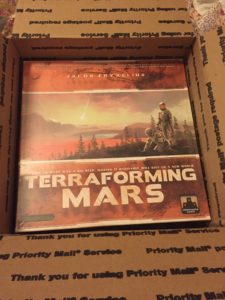 It's December, it's the Second Sunday of the month (12/10), are you ready to get some December gaming going? We will be gaming at The Arbor Brewing Company in Ypsilanti (720 Norris Street) from noon to 4pm.
I have some new Games Library Games…including a suggestion I received at U-Con for a game that's been on my wish list since it came out. So I bought it. Come play Terriforming Mars, or any of the other select games that show up at December's GLD. Got a new game? Bring it! Got a seasonal game? Bring it? Want to play a specific game from the Games Library? (Clicky!), drop me a line and I'll pack it up for you.
As an extra bonus, if you volunteered at U-Con 2017, come to December's Games Library Day for a thank you day of gaming and pizza. We couldn't have done the con without you!