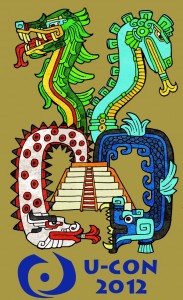 Whoa!  U-Con starts in 9 days.  We are making final arrangement: printing tickets, ordering shirts, jumping up and down from excitement.  The final proof for the shirts is on the right!
Event submission closed over a week ago.  If you got your events in, yey thank you!  We love our GMs!  If you didn't get your event in, we still have some space we and we might be able to find you some space and post notices about your event.  You can also bring your game and find players for pickup games; we suggesting hanging out in the games library area to look for players.
The closing of event submission, however, means it's time for the con book!  For those new, the con book is the ultimate listing of all the events.  We provide physical copies of it onsite.  However, for those who prefer electronic copies, or just want a preview, our 2012 con book is now available for download!
We updated the most of beginning section.  New this year, we have policies for costumes and harassment.  Please make a point of checking it out here or there.
See you in 9 days!