You guys are kinda blowing me away with preregistration.  We surpassed 2011 totals days ago.  I now have a goal for you guys to reach 2010 preregistration levels – you know, before we held the con in an emergency location.
So, if you haven't already, go register now!
As a side note, the bags with our logo arrived.  I snapped a few pictures, so that you could get a feel for them.
We have emblazoned our logo on the front, but the word gaming does not appear, making this bag suitable for business or pleasure.  They're made of 600 denier polycanvas, giving them a sturdy feel.  They are 15″ by 11.25," easily fitting 4 standard size gamebooks with some room to spare.  A 15-inch laptop fits no problem.  There is also a front pouch for pens, dice, and other smaller items.
And here's a revised picture of the shirt…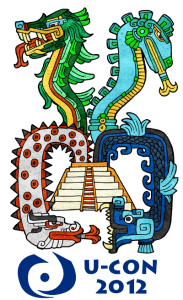 See you in two short weeks!